Roofing Repairs that add years to the life of your home
Roofing repairs are not something you want to be organising on a regular basis. If you would rather have this job done as rarely as possible, to the highest standard, then we can provide the right level of expertise.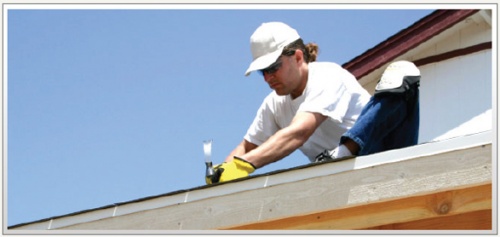 Top the Lot tradespeople deliver an outstanding level of professional service so your roof can withstand extremes of weather as well as regular wear and tear.
Is your roof suffering from storm or heavy weather impact?
The last few years has seen increases in heavy rain and storm activity where older houses in particular feel the impact.
With over twenty years experience, our team of roofing repairs experts know how to implement thorough, high quality repairs that restore your roof to excellent condition and safeguard it for the future.
Eliminate ongoing problems with gutter cleaning
Gutter cleaning is dirty and dangerous work. It's usually the last thing you feel like doing on a weekend – whether it's to protect from fire threat in summer or ensure against blockages caused by heavy rain in winter.
Gutterguard installation can really help – we carry all types and can advise you on what is suited for your gutters.
You will find that once we've been up and cleaned your gutters thoroughly, ongoing maintenance will reduce so you will save both time and money.
And of course, we can ensure even longer term clean gutters if you'd like to arrange some safe, reliable tree lopping services as well.