Rainwater Tanks installed and plumbed for your convenience
Many home owners want to contribute to water and energy conservation. Rainwater tanks are an easy and convenient way to cut down on excess water usage.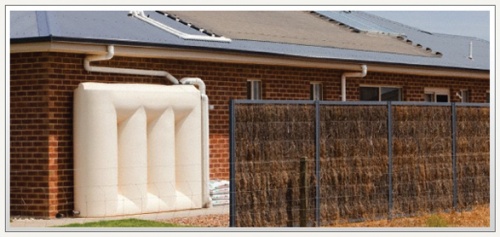 The convenience of having rainwater tanks is often offset by the hassle of having to compare products, source watertanks, install and plumb them and ensure everything is in working order.
Top the Lot does all of this for you – so your rainwater tank installation is fast, efficient and stress free.

Comprehensive advise so you get the best rainwater tank for your needs
The huge amount of choice when it comes to rainwater tanks can be confusing.
Top the Lot specialists have many years experience and can talk you through the different options so you get the size, shape and style of watertank that is most suited
to your needs.
Talk to us about other water tank options
When installing rainwater tanks you may also want to consider other watertank options and products to help in the conservation and use of water, such as:

Greywater diversion systems
Slimline, modular and other tanks suited to limited spaces
Garden pumps, water pumps and silent pumps